If you're looking for an aftershave online, the search can become pretty daunting, with hundreds on offer. Step into a shop and it's the exact same story, a vast array of peculiarly diverse bottles all containing different scents and male grooming products can be pretty confusing, and many men grab the first familiar bottle they see to try the scent and if they're lucky, find the right one for them. If you're like me then you like to try new fragrances. One thing I do like to look for is something different, something my friends won't have.
I came across Gruhme on Twitter. Gruhme is the brainchild of Rob Hallmark. Rob grew up in the West Midlands and studied law at Durham University. After a short spell in the Far East he returned to the West Midlands where he spent the next seven years working as a corporate lawyer before deciding to follow his heart and start his own business. As a consumer of men's products Rob had struggled to find strong male brands that he truly identified with. With a passion for creativity, design and aesthetics Rob was inspired to create his own brand encompassing the qualities he found mostly absent from the modern alternatives, and Gruhme was his answer. Now, just under two years old, the Brand is available online at www.gruhme.co.uk & at selected retailers in the UK.
Gruhme's ethos is simple, and is resonated through the Brands clean cut branding.
SOPHISTICATION THROUGH SIMPLICITY

No imitation. No nonsense.

An extraordinary amount of effort goes into our brand image and product.We are not about achieving our second best, we are about achieving sophistication through simplicity.
I was lucky enough to receive a bottle of the GRUHME NO.14 fragrance. The key difference between this and the ORIGINAL FRAGRANCE is purely the strength of the fragrance. The GRUHME NO.14 is a 14% stronger concentration, rather than 10% in the ORIGINAL Fragrance. This extra strength improves the longevity but also gives a more concentrated burst of scent.
The scent itself is awesome. It has a citrus scent that blends perfectly to give a sophisticated scent – perfect for every day use, for a gent looking for something a little more special.
(Ingredients: Alcohold Denat, Parfum, Benzyl Alcohol, Benzyl Benzoate, Citral, Citronellol, Coumarin, Eugenol, Geraniol, Linalol, Evernia Prunastri Extract, Limo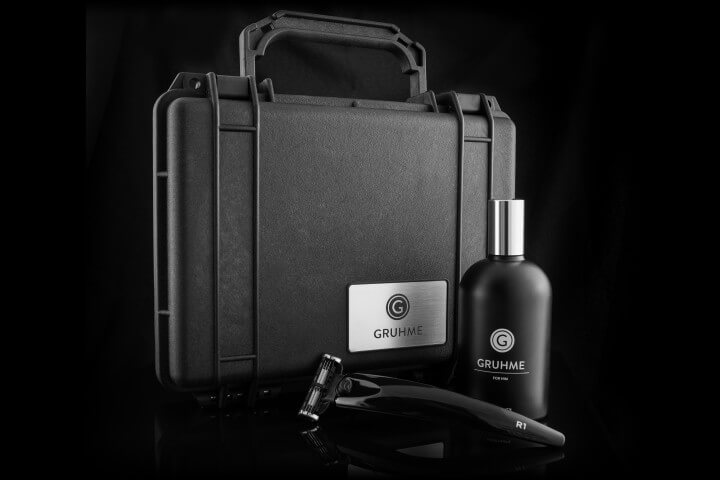 nene).
Online orders are sent Royal Mail, Next Day, Tracked – Quick & secure delivery is always a winner for me!
It's also definitely worth checking out the Gruhme Shave kit – something that will definitely be on my Christmas list this year!
Check them out here.