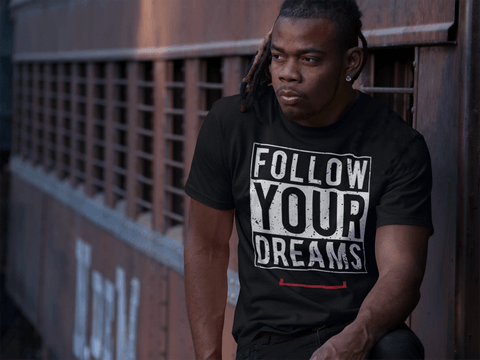 Music and merchandise go together like peanut butter and jelly. The impact that music has had on culture is undeniable.
In an Interview, Tommy Hilfiger once said that he started a clothing line because he wasn't musically-inclined enough to be a rockstar, but by being a fashion designer he could at least dress like a rockstar. The rest as they say is history. Tommy Hilfiger went on to define the style of a generation, setting fashion trends that crossed cultural boundaries and influenced the style of musicians across multiple genres.
I Can Be Society is an apparel and accessories start-up that aims to have a similar-effect. Born out of tragedy, founder Michael Price launched I Can Be Society in 2014.
"When I was 17 years old everything changed. I received the most devastating news of my life. I got a phone call. My dad had just been diagnosed with A.L.S. (Amyotrophic Lateral Sclerosis). Receiving this devastating news would forever change my outlook on life. It made me realize that life truly is short and you can't spend your limited time on Earth living somebody else's dream or somebody else's interpretation of what your life should be.
From that moment forward, I decided I would live everyday to the fullest. From 17 – 27, I've been a witness to the devastating effects of disease, drug abuse and a lack of determination from friends and family. I wanted to do something to change things."
In 2014, Michael Price launched I Can Be Society. It was launched as a platform to advocate for those struggling with addiction, disabilities, discrimination and distress. The design style was influenced by motivational quotes combined with the edge of music culture.
Upon launch, I Can Be Society only had one product – a silicone wristband.
After struggling to make progress with his business, in 2016, his flagship product (I Can Be Wristband) saved his company.
"I was on vacation sitting on a beach in San Diego one day trying to figure out my next move. My business wasn't making money; I was getting single-digit traffic volume and I was on the verge of quitting. I looked down at my wrist and saw my wristband. It reminded me of the reason I started this company. I wasn't just about me. It was about motivating other people to live a better life, and I felt that if I quit, I would be letting down the people I could help impact."
After returning home from San Diego, Michael researched the effect his wristband had on him, that suddenly kept him going when he otherwise would have given up. He stumbled upon the Power of Suggestion – a psychological principle which asserts that what we train our brain to believe based on our surroundings will influence our behavior.
"I realized that a wristband wasn't enough. If I wanted to have long-lasting positive change in my life as well as the lives of others, I had to create an environment that exposed people to positivity at every major touch point of their day, which extended beyond one simple wristband and into apparel and accessories."
Over the next 90 days, Michael expanded his product line to include t shirts for men, women's t shirts, hats, decorative pillows, iPhone 6 cases, motivational posters, and coffee mugs.