Summer is here, and for manly beasts out there, this means it's time to get out into the great outdoors. If you're preparing to hike, climb and cycle your way through national parks this summer, here are some essentials to take with you .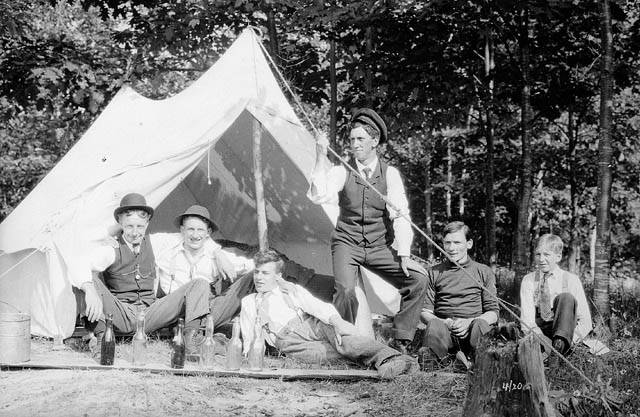 A backpack
A backpack is a great way to carry everything you need easily. You can ride, walk or canoe to your heart's content without worrying about your valuables. It's best to go for a lightweight carrier in the summer months and a waterproof bag in the winter months. Click here to have a look at some options.
A water bottle
Hydration is key when you're out and about, and you're engaging in physical activity. Make sure you take plenty of fluids on board, especially in hot weather. If you're cycling, you can often attach your bottle to the bike frame.
A map
National parks tend to be vast, and even seasoned orienteers can become unstuck. Take a map with you, so that you can navigate your way if you do get lost. It's also a good idea to look out for signposts and information boards.
A compass
Most of us rely on our phones and satnavs to get us from A to B these days. But you should never underestimate the value of a compass in the great outdoors .
Snacks
Even the manliest man can't survive a day in the wild without fuel. You probably won't want to go trekking, climbing or open water swimming after a heavy meal. Take snacks with you and eat throughout the day instead.
Sturdy shoes
When you're clambering over rocky terrain and negotiating fallen branches, you need sturdy shoes. Make sure you have walking boots or supportive trainers that fit you perfectly. If you've bought new shoes, wear them in at home and pack some band-aids. You don't want blisters ruining your day.
Layers
If you're spending a full day in a national park , you'll experience a range of temperatures. You may feel chilly early in the morning and late at night. In the midday sun, it may be scorching. Pack some lightweight layers in your backpack and add and remove as necessary.
A waterproof
Even when summer is in full swing, you may encounter changeable weather conditions on the top of a mountain. Take a waterproof jacket with you to protect you from sudden downpours.
A torch
As the sun sets, you may find it increasingly difficult to follow paths and look out for potential hazards, such as rocks and tree roots. Take a torch with you or use the light on your cellphone to guide you.
A camera
America's national parks are among the most outstanding areas of natural beauty in the world. It's a shame to miss out on such spectacular photo opportunities.
If you're heading out on a hike, or you're gearing up to conquer the mountains, bear this checklist in mind. If you've got the essentials, you increase your chances of having a great day without any unwanted accidents or injuries.