As the art of mindfulness encompasses positive thinking and actions towards our human race, we've seen a surge of self acknowledging and motivational garments storm the fashion industry this year. From the catwalks of Brain & Beast and their 'Don't Hate What You Don't Understand' slogans to the shelves in the stores of high street favourites; powerful messages are being printed onto everyday garments to push this idea of mindful fashion.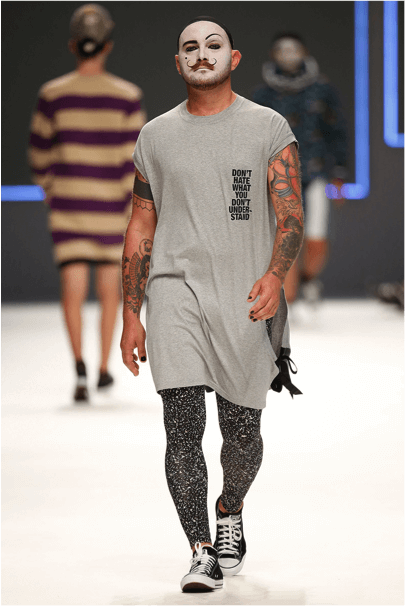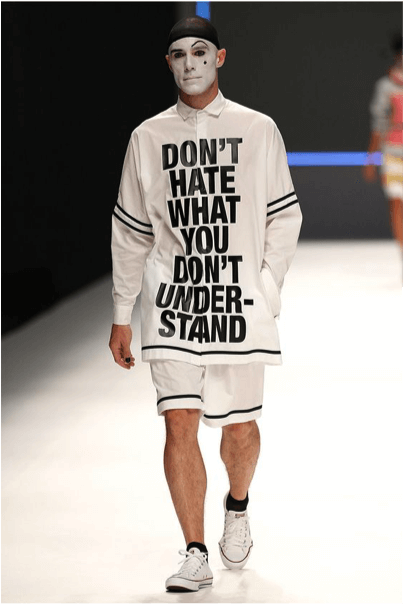 Unfortunately a lot of retailers seem to have taken on board the slogans, but left the motivational part behind, particularly on women's fashion sites that are using phrases such as 'cute but psycho', and 'shots over squats' – empty messages that really don't encourage in the sort of behaviour we want our future generations to be living under. 'Shots before squats' for one, is essentially suggesting that consuming alcohol is more desirable for a young woman than exercising, and labelling a female 'cute but psycho' is playing on a feminist stereotype that some of us are trying hard to shake. Not to mention the fact it almost romanticises someone being a psycho – as if it is a trait we choose and take in our pride, rather than it being an unstable mental state.
No it's really not ok, and I am very much sick of seeing these rubbish, cheap products emblazoned with confusing, mixed messages. So I've scoured the internet to try and source some actual motivational slogan tees so that we can in fact walk around proudly encouraging positive movement, rather than simply following fast-fads that do us no good.

5 of the Most Motivational Tees of 2016 (that are actually motivating)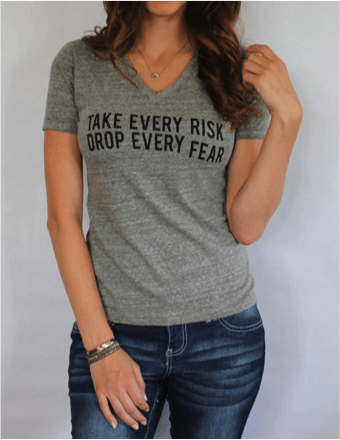 TAKE EVERY RISK DROP EVERY FEAR.
I couldn't write this article without mentioning For Better Not Worse. FBNW are an American label who produce charity fashion, where with every motivational slogan t-shirt purchased, they provide a disadvantaged child with a bag of wholesome groceries. Fighting poverty in America one tee at a time, this philanthropic brand not only encourages change in their actions, but their mission is woven into the threads they sell on their online boutique so that every time you wear their merchandise you can feel proudly a part of something that may one day change the world. Now that's fashion with a conscience.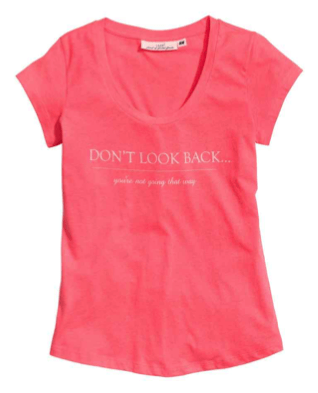 DON 'T LOOK BACK. YOU 'RE NOT GOING THAT WAY
Once again, playing on the idea of mindfulness; a state in which you are fully aware of the present rather than focusing on the past or future. Awareness of how your mind and body are currently, helps to awaken your soul and senses, keep you calm and away from regrettable thinking or worrying about what is to come. Being alive and present in the now, is one of the greatest practises we can achieve. A grand slogan from high street retailer H&M.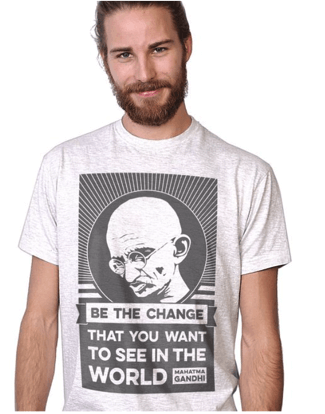 BE THE CHANGE THAT YOU WANT TO SEE IN THE WORLD
From Amazon store AllRiot Kick-ass Political T-shirts, comes this ever motivational message quoted from Mahatma Gandhi himself. In 1947 Gandhi lead his Indian people to independence and out of British rule, the famous quote is a cornerstone of non-violent activism. In other words, the changes that will proceed through your life time are often inevitable, but we can influence and mould who we are as people, in order to become the best version of ourselves we must first initiate personal change before we can work on the world.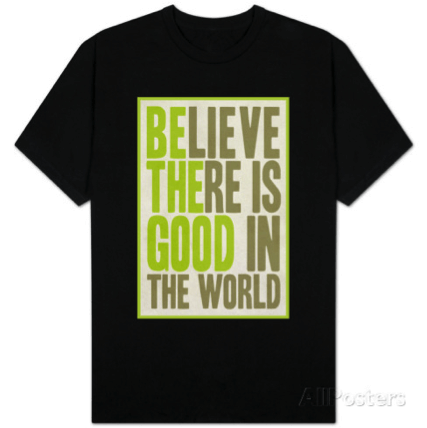 BELIEVE THERE IS GOOD IN THE WORLD
Along similar lines to the Gandhi quote, this printed tee from All Posters highlights how you yourself, must demonstrate the kindness and goodness that you want from the world. This unisex t-shirt strikes the heart with not one, but two equally positive messages.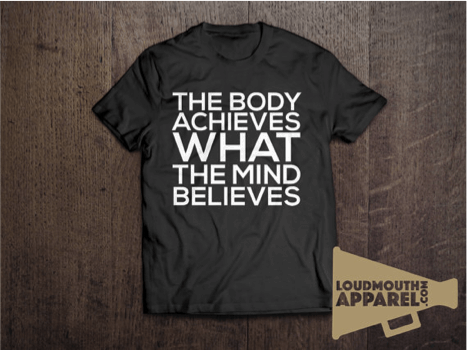 THE BODY ACHIEVES WHAT THE MIND BELIEVES
A T-shirt from LoudMouth Apparel on Etsy states that we can do what ever we set our minds to. With the flurry of body positive images and movements happening in 2016, it's important that we not only motivate our minds but our physical bodies too. It's essential that humans exercise as part of a healthy lifestyle and with fitness and nutrition climbing our hierarchy of needs, its no wonder so many retailers are boosting their customers motivation by encouraging wellbeing and fitness activities through fashion t-shirts. Wear your inspiration.