Basics Revamped By Ryan Pilkington
I love a good tee as I'm sure every man does. They come in a range of styles, prints, colours, fabrics and cuts to suit every man's personal style. With a collection of tee's bursting out of my wardrobe I didn't think that much more could be done with the simple t shirt before it becomes over worked. But Topman proved me wrong!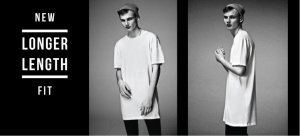 They have reinvented the classic tee. Instead of creating wild prints and other strange design details on a tee they have simply redefined the silhouette. With 9 new innovative designs Topman are on a mission to revamp the basics in your wardrobe. Roller Fit, ¾ Boxy, Classic Crew, Classic Vest, Longer Length, Classic V, Grunge Scoop, Skater Fit and last but not least the Cut Off Tank. Spoilt for choice. The collection is young, simple and easy to wear, going with anything you could have in your wardrobe. Effortless and classic style. My favourite (if I could choose just one) would be the Longer Length tee, pair this with black skinny jeans and some leather military boots!
What would you pair with your tee?
Also, check out www.pilkingtonspurls.blogspot.com my own fashion blog for more!