Whether it's the allure of old money that helps to keep worldly men on their toes, or it's the burning desire to achieve nouveau riche status that ignites the average male's inner fire; nothing screams self-confidence and power louder than the classic banker suit. This larger than life outfit has always been a favourite style among corporate bigwigs, nefarious mobsters and the Hollywood crowd. Fortunately nowadays it's not necessary to be wealthy, a member of the criminal element or a celebrity to reap the benefits of the banker suit's suave style.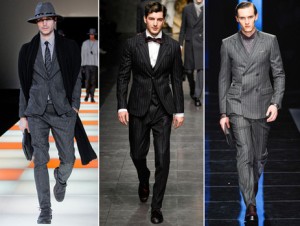 It's the undeniable appeal of the simple stripe pattern that gives this suit the mass attention that it so richly deserves. Stripes are synonymous with power. It's virtually impossible to have one without the other. The wider the stripe, the bolder the intent: and there's no better way to inspire a passion for style, or proudly highlight business prowess than by donning this timeless ensemble.
The secret to fashionably pulling off the dynamic striped banker suit during this spring and summer 2014 fashion season is to stick to a variety of basic neutrals: in medium to dark tones of navy, grey and black. A matching or contrasting pattern pocket square is always a nice touch, but not always necessary. Similarly, depending upon one's personal style, choosing to wear a single or double-breasted suit is a matter of taste.
The main strength of the banker suit is its striking stripe pattern, not its bulky form; therefore exaggerated shoulder pads are not required. It's also best not to pair it with other clothing and accessories that have a greater number of stripes, in order to prevent sensory overload. Instead, it's safer to choose simple plaids, or colourful gingham pattern shirts and ties to use as backdrops and accent pieces. To balance the bevy of vertical stripes, the clever use of a bow tie would add an interesting horizontal design detail into the mix.
Of course, a combination of simplicity and style is always best. Therefore at times it may be appropriate to don a plain spread-collar shirt and an elegant solid color tie; rather than fancier attire. However if a three-piece power suit without the frills is more suited to one's personal taste, then one should take the plunge and enter the realm of tieless banker suit chic!
Men's suit designs may periodically show variations in color, texture, line, shape, and form over the seasons; however these classic pieces will never lose their mass appeal and style influence. Whether it's for work or play: the bolder the men's suit, the more explosive the fashion statement. Therefore there's no need for any extra bells and whistles when it comes to stylishly donning this season's latest banker suit fashion trends. All that's necessary is classic and elegant style.